Breaking News! Nosto now live on StoreMantis!
We are excited to announce the recent integration of Nosto on the StoreMantis platform! Nosto is the easiest way to deliver your customers personalized shopping experiences – wherever they are. It is a service used by thousands of retailers across the globe to grow their business and delight their customers.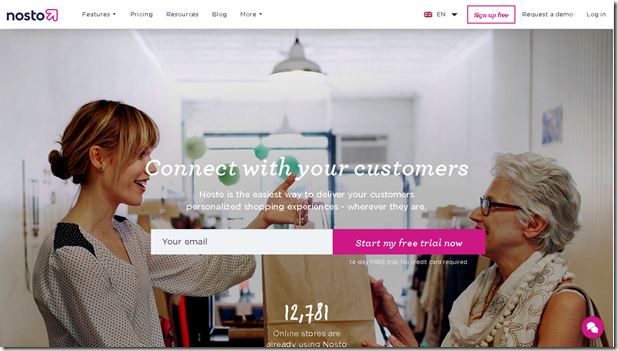 Have you every visited an online store, browsed some products, possibly added a few to your shopping cart and then closed the site only to later begin to see the very same or similar items you were interested in being advertised to you in social media? Or did you start to receive emails from the online store reminding you to complete your purchase and suggesting similar products? This is the type of functionality that Nosto provides! Here is a list of the features of Nosto:



Facebook Ads

Join the social media conversation and boost customer acquisition with automated, product-level ads on Facebook.




Product Recommendations

Recommend shoppers the most relevant products in real-time based on their unique user behaviour.




Behavioral Pop-ups

Reduce site abandonment and create a sense of urgency with time-limited special offers and one-time discounts.




Triggered Emails

Inspire return visits to your online store with automated, personalized emails, recommending highly relevant products.
HOW TO SETUP NOSTO ON YOUR STOREMANTIS STORE
Register. Visit www.nosto.com and signup for an account. Nosto gives a free 14 day trial. You don't even need a credit card to register!
Get your account id. Once you register, Nosto will give you a unique account id. To view your id, in your Nosto account area, go to 'Settings'-'Account Settings'.
Save your account id. Login to your StoreMantis account. Go to 'Website Optimization'-'Nosto Setup' . You will see a page like below:


In the 'Nosto account id' field', enter your Nosto account id you retrieved in step 2. Set the 'Status' to 'Enabled'.

Enabled Nosto Elements. Nosto Elements are various sections on your website where you can enable various features like, 'Popular Products', 'Products You Recently Viewed',' Other Customers Were Interested In' etc. You can simply enable all the Nosto elements or just the ones you want.
Save your changes. Click 'Save' and you are done!
You can then login to your Nosto account and enable various features such as popups, recommendations etc.