Get FREE traffic with MPScout and Pricecheck!
Traffic is the lifeblood of any ecommerce website. It is essential for online store owners to find affordable and effective means of constantly drawing relevant traffic to their online stores.
In a bid to help our merchants accomplish this, we have just completed the integration of two new product feeds to our platform: Pricecheck.com.ng and Mpscout.com. A product feed is a format used to transmit data from one sever to another. It gives online stores the ability to synchronize their products into other market places, comparison sites and product search engines. This is a very affordable and effective way of getting new customers on a continuous basis.
MPScout.com
MPScout.com is Nigeria's foremost product search engine that enables shoppers search for products across multiple ecommerce websites in Nigeria.
When you integrate your store with MPScout, your products will appear on the search result page when customers search for products matching your inventory: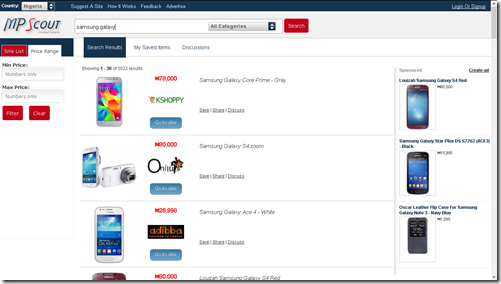 How to integrate
To add your products to the MPScout search index, all you need to do is
Install the MPScout product data feed. To do this, login to your StoreMantis Dashboard and go to 'Extensions/Apps'-'Product Feeds' (http://storemantis.com/merchant/extension/feed) . Click the 'Install' link for the MPScout feed

Next, click 'Edit' for the MPScout feed. On the MPScout feed settings page that opens, set the Status to 'Enabled'. The box beneath it is the 'Data Feed Url' box. This contains your feed url that you will submit to MPScout. Copy this link. Then click the 'Save' button.

Next, go to www.mpscout.com . You will see a link at the top that says 'Suggest A Site'. Click this link. You will need to create an account or login if you already have one.

After you login, fill the 'Suggest A Site' form. Ensure you fill in the product feed you copied earlier in the 'What is this site about' field. After you submit, the MPScout administrator will review your site and it should be live within 24 working hours.
Pricecheck.com.ng
Pricecheck is Nigeria's leading product comparison site. It enables shoppers to easily compare products and prices across multiple ecommerce websites.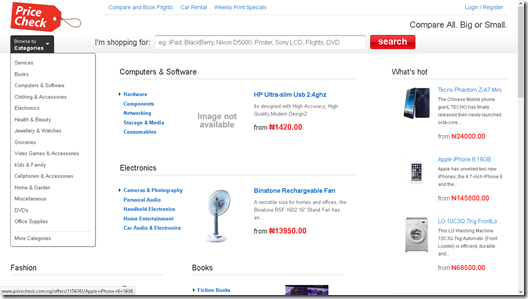 To list your products on this site, you will need to install the Pricecheck feed. Follow the steps you used for the MPScout feed above. Once you have your Pricecheck feed url, you will need to go to www.pricecheck.com.ng/shop_signup . Paste your feed url in the 'Online Shop Url' field. Fill in the other fields and submit.